Retreat Spa and Health Club
A haven for the body and the soul, the Retreat Spa offers guests not only moments of tranquility and means of relaxation but a menu of spa and fitness amenities and treatments to improve personal well-being.
Emphasizing natural beauty and healthy living, the spa provides access to an array of spa treatments, gym facilities and equipment as well as a pool, Jacuzzi, steam room, and sauna. The spa's three professional salons include N Bar (a nail salon), 1847 (for men), and Jet Set (a hair salon for women).

Our international team of qualified Spa therapists will ensure that you receive a warm welcome and the utmost care and attention throughout your spa experience. Choose from our variety of holistic and specialized treatments on offer. Relax, recharge and indulge at Retreat spa with a number of superb promotions on offer.
Whether you are looking to while away the afternoon with a traditional Rasul Mud treatment or looking to cool down with a luxurious Massage and Express Facial, then Retreat Spa is the place to go!
Nestled on the 4th floor of Grosvenor House Dubai, Retreat Spa is a heavenly escape to indulgence designed to ensure that daily stresses whittle away, leaving the mind, body and soul completely relaxed following the experience of any of the holistic treatments on offer.
Providing an unsurpassed and balanced approach to wellness, the spa is a source of tranquility, the gym invigoration and the terrace pool complete relaxation.
It is no wonder that the Retreat Spa is known as a real treat for the all the senses.
Special Offers
From 375 AED only, spend the day at the Retreat Pool and Health Bar. Learn More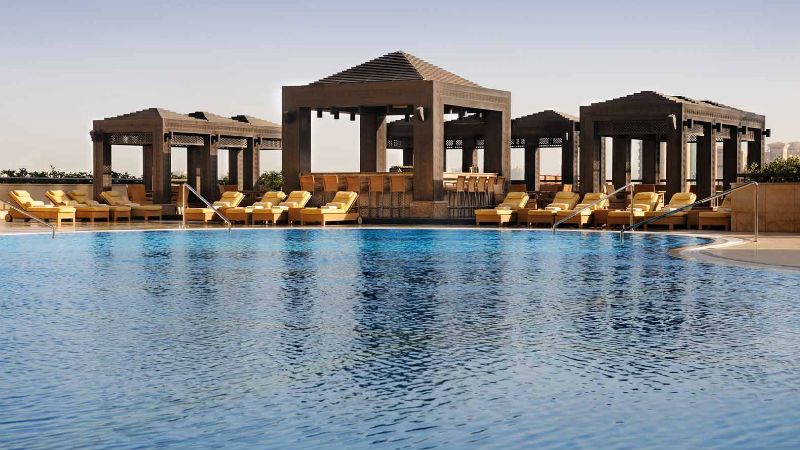 Day Package At Retreat Pool And Health Bar
-Swimming Pool
-Spa (Sauna, Steam and Jacuzzi)
-Gym
-*Food and Beverage voucher worth 75 AED at Retreat Health Bar
-*Complimentary 30 mins Back Massage at Retreat Spa
Book Now
To book or for more information, please visit us at the Retreat Spa and Health Club, located on the 4th floor in the Grosvenor House or contact us on Tel: 04 399 6761 or Email us on Retreat.GrosvenorHouse@luxurycollection.com
Reception: 6:15 AM - 10:30 PM
Swimming Pool: Summer Timings -7 AM - 9 PM; Winter Timings -8 AM - 8 PM
Spa Treatments: 8 AM - 10 PM
Gym: 6:15 AM - 10:30 PM
Sauna, Steam Room and Jacuzzi: 6:15 AM - 10:30 PM